For Interstate Removalists in Sydney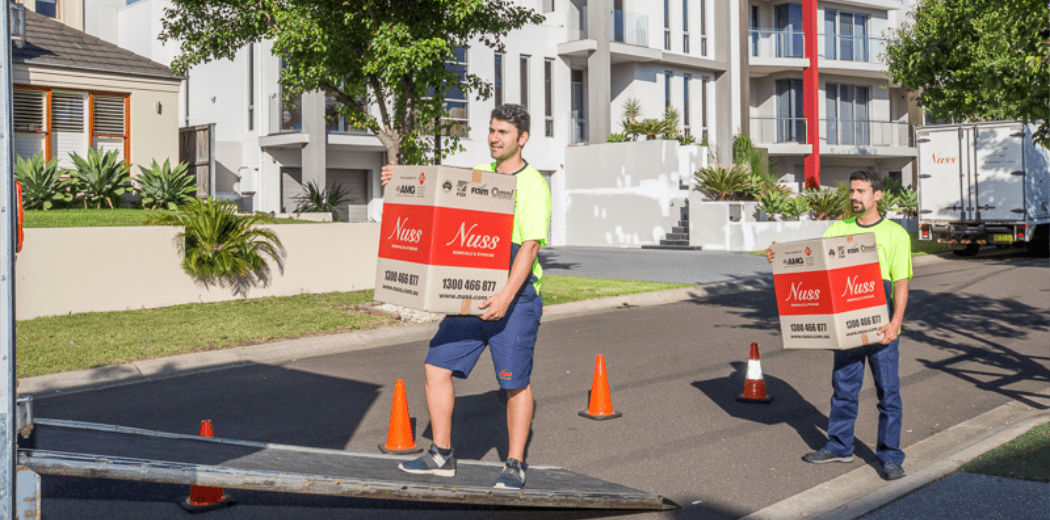 Nuss Removals are your trusted interstate removalists in Sydney. We understand that an interstate move can be challenging on you and your family. Our team ensures that all aspects of your move are conducted in a professional, caring and responsive manner. We have more than a century of experience moving individuals and families across the country. Put your mind at ease knowing that your valued furniture and belongings are in good hands.
Nuss provide a door to door service to almost any location in Australia. Nuss are the expert interstate removalists from Sydney to Melbourne, Brisbane, Adelaide, Perth and more. From large capital cities to small regional towns, we've got you covered. We offer a full range of interstate removal services to make your relocation a breeze. From packing and unpacking, insurance, storage, pet and car transport to house cleaning and more. Contact us today to discuss your upcoming move and let us tailor the perfect solution for you.
Why Choose Nuss for Interstate Removals?
When you choose Nuss, you enjoy premium interstate removals from one of Sydney's most seasoned interstate movers. What makes us different? It is our people that make Nuss a truly great company. Our team of removal experts are highly trained and passionate about what we do. We are here for you at every step of the process, to ensure your complete satisfaction from start to finish.
Pre-move Survey: No stress and no surprises
Our pre-move survey is the key to an accurate quotation. This ensures there are no surprise charges and stress-free interstate removals in Sydney. Book an in-home inspection and one of our friendly Sydney-based interstate removalists will come to you. Here we can assess the size and quantity of the items that will be moved. On the day of your move, we arrive at your home fully prepared and equipped.
Personal Move Coordinator:We take care of everything for you
You will be assigned a personal coordinator who will ensure that we understand your needs and we deliver our services to your expectations. Your coordinator will help you prepare for the move and will give you a checklist of things you need to prepare. They will also monitor every step of the removal, ensuring that everything is done in a timely and professional manner, while keeping you informed of the progress along the way.
Pet Transport: The practical and compassionate choice
Nuss partners with Australia's top pet transport company to ensure that your pet is transported safely and with the best possible care. Whether your pet has four legs, two legs or none, they will be given the attention they need. We work with a team of experts who know the best way to transport your pet, the best crate for them and how you can prepare them for the trip.
Storage: The safe and cost-effective choice
As Sydney's trusted interstate removalists, our services come with flexible storage solutions. We provide wooden modular or steel storage containers to minimise handling and potential damage to your goods and you only pay for the space you need. Both long and short-term arrangements are available and we can accommodate large or oversized items, fine art or antiques. To ensure that all your items are accounted for, every item is numbered, tagged and listed before they even leave your home.
A Trusted Network of Removal Partners
Interstate removalists need resources across the country to be able to provide a fast, cost effective and complete door to door service. With the help of our partner companies of the AMG (Australian Movers Group), Nuss is able to provide a complete range of interstate removal services, moving our clients safely and reliably.
AMG is an exclusive network of hand selected, independent and fully resourced interstate removalists with the benefit of on-site storage facilities. We operate as one national network, offering the same quality of service at any location and moving thousands of families around Australia each year.
How it works
Interstate removals are generally moved around the country by rail, from one city to another, using our intermodal 20ft high cube steel containers. We have special arrangements with the national rail carriers for this purpose. The Nuss crew will bring the containers to your residence on loading day and will skillfully load your belongings on site. Each item is wrapped and padded carefully with cushioned removal blankets before being loaded into the containers.
We complete an interstate moving inventory list on the uplift day, providing a brief description of each item we move. Upon arrival at your destination, your local Nuss crew or our AMG partner will collect the container from the rail terminal and arrange a convenient delivery time and date with you.
Your furnishings will be unwrapped from their removal blanket padding and placed in your new home in the room of your choice, along with any cartons, thereby completing the door to door service. We can also arrange for your cartons to be unpacked and, if need be, placed inside cupboards ready to use. We suggest that you discuss this particular service with your move coordinator.
Nuss do regular interstate removals from Sydney to Brisbane, Melbourne, Perth, Adelaide and most major cities. For fast, reliable and careful interstate moves, contact Nuss now.
Planning Tips for Your Interstate Move
The best way to manage an interstate removal in Australia is to identify any potential problems at the planning stage, and solve them then. It's best to try to get all the issues, particularly costs, specific needs, time frames and expectations, identified and worked out prior to the move.
You will need:
Clear upfront costs for your budget including packing, pet movement, and other essentials.
A practical timeframe for your interstate move.
Instant access to your moving company for help and information when you need it.
Quality storage options made easy, should they be or become required.
A helpful and knowledgeable removalist to make sure your move is completed smoothly.
Relocation information which will specifically address your own needs and priorities.
At Nuss Removals, we take care of everything for you when you need interstate removalists in Sydney. We make sure our clients have all the information and practical help they need. From the moment you contact us until you're moved in, Nuss is here to help. Our experts can help with everything from moving to the city to reorientation in your new home.
Let Our Interstate Removalists in Sydney Give You a Hand
Make your next move easy and get all the services you need:
Simply call us to discuss your removals needs. We'll give you an upfront quote for your move, storage and other requirements. We'll arrange a suitable timeframe and make your relocation easy.
Ask us about our support services. We can help you with everything from packing & unpacking and storage services. To ancillary services such as car transport, pet transport and we can even arrange house cleaning services for you.
Problems, issues or concerns with moving? Just ask us for any help you need with specific removal issues. We can solve these and provide answers for you.
Get in Touch
Need professional help from your interstate removalists Sydney? Just call us on 1300 466 877 or contact us online. Ask us for any services or guidance you need for your interstate move. We're here to help!