A message from the Australian Government:
To stop the spread, stay 1.5m from others, follow rules on social gatherings, wash hands, stay home if sick – 
www.aus.gov.au
'We are all in this together'
The spread of COVID-19 has led to challenging times for all of us.
We would like you to know though that at this stage we are continuing to operate and maintain services and are focused on protecting employees, customers and our community. As each day passes, the COVID-19 landscape changes and so information may need to be updated.
We have set up this dedicated 'Information hub' for updates and information during the COVID-19 health alert, please scroll down to find out more about the extra steps we are taking to help keep everyone safe during the Coronavirus outbreak.
Please bear with us in the coming days and weeks while we test and develop a number of contingencies to help maintain our level of service to you. Some of our team are working remotely which may result in slightly longer answer times in our phones.
If you have booked a Pre Move survey, or have a moving crew booked to attend at your home but you or someone in your home are in self-isolation or unwell because of COVID-19 (coronavirus), or have recently travelled overseas, please call us now on +61 (0)2 9425 4600.
Pre Move Survey
We are able to undertake a pre move survey via video call; this enables us to assess our needs, the volume and packing requirements without the need to come into your home. To do this we contact a customer using their smart phone and a trained surveyor from the offices will guide you through your home enabling us to carry out a survey without attending your home. We are still carrying out some 'in home' surveys, alternatively we can carry out an assessment over the 'phone by making a written record of what we are told is to be moved.
Moves
Our crews have been separated into 2 groups that do not work together.
Crews are regularly washing their hands with soap & water, have gloves available and avoid infringing the 'social distancing' guidelines.
Crews that have or display an illness or temperature do not work (we have electronic thermometers in the office.
We check with our customers before we arrive at their home to enquire about the recent health and travel history of anyone in the home and if anyone there is self isolating then we discuss with the customer how we will manage this.
Relocation Programs
We are still able to conduct orientation and settling in programs without any changes.  Real Estate Agents are implementing their own rules to reduce risk to the tenants currently occupying properties, some will not allow property viewings until the property is vacant, others are extending the viewing times and limiting the number of people through at a time. Others are using virtual tours or arranging 'one on one' tours.
We will check with transferees the day prior to service to understand what exposure anyone in their family and/or home may have had and will then make decisions accordingly on a case by case basis. Our aim is to maximise the safety and security of our transferees and staff.
What else are we doing to ensure continuity of service?
We have established remote working for all office team members with appropriate safeguards
We maintain daily communication and updates with the Australian and overseas offices of our moving partners
We have issued crews with soap to carry with them
We ask our customers to provide access to a dedicated bathroom for crews to regularly wash their hands while in your home.
For more information on COVID-19 please visit the Australian Government website click here
Australia: Stage 2 Restrictions are now in force and supersede Stage 1:
As Australia is a federation many of the rules and much of the enabling legislation must emanate from each state. As a result restrictions which apply in some states may not (yet) apply in others. This obviously can lead to some confusion.
General restrictions
In summary:- The national borders are closed, only Australian citizens and permanent residents & immediate dependants are permitted entry (with some exemptions); those arriving must self-isolate for 14 days from arrival  https://www.health.gov.au/news/health-alerts/novel-coronavirus-2019-ncov-health-alert/coronavirus-covid-19-advice-for-travellers  It is now illegal for Australian citizens to depart from Australia (certain exemptions apply).  State borders are closed in one or both directions and any person traveling over the state line requires a permit and must self-isolate for 14 days on arrival.
The government requirement to maintain social distancing of 1.5metres between people remains and in addition there is a requirement that there be a minimum of 4 sq metres of space per person within indoor structures including shops (with some restrictions & closures). Restaurants and cafes are closed other than for takeaway service.
Update: Moving and Relocation (dsp) services. We are still operating all modes of moving services, complying with government directives on social distancing.
As most state borders are now closed, the transfer of people is inhibited due to the 14 day self-isolation required upon arriving in the destination state. We are however still able to deliver household goods interstate, albeit with some delays possible.
All other types of moves can be carried out however there are significant delays with the despatch of airfreight due to severely limited air cargo capacity and the air freight rates have increased significantly. Export and import of sea freight & import of air consignments continues with some short delays.
DSP relocation services, such as home search, can still be provided but with significant limitations as there are no 'open house' inspections and so private inspections must be arranged with certain criteria required to be met. School search is severely restricted due to many private schools having closed and most others & state schools restricting physical access, advice and telephone assessments can be attempted.
---
Useful Information (Click images for larger view)
Symptons of COVID-19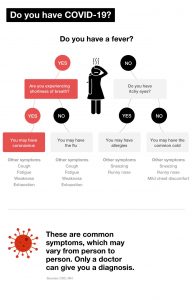 ---
Useful Links
(additional links will be posted as they become available)
For information on self isolating guidelines please click here.
For our Customer COVID 19 declaration please click here.
Queensland border entry permit application information please click here
Observe with UV light how to ensure all germs are removed during handwashing please click here
Information on travel from the Australia government please click here
https://www.smartraveller.gov.au/news-and-updates
Australian Government information & resource links related to Covid-19 please click here
---
At Nuss Removals, we are committed to keeping our staff and customers safe during this crisis. We are currently still operating and if you need removal or storage services in Sydney, please contact us today.