Relocating to Egypt is by no means an easy task to organise and execute, but Nuss Relocation consultants are up to the challenge. If you are moving overseas from Australia, you will be pleased to know that Nuss Relocations have the experience and necessary expertise in organising relocations world wide. We will navigate through oceans of paperwork and roadblocks of cultural differences, making your relocation as easy as possible.
Relocating to Egypt – Introducing the country
There aren't many (if any) countries in the world that can match Egypt's wealth in monuments of ancient history. The famous pyramids of Giza have been drawing visitors from all over the world for centuries, and their sheer existence is a great mystery – still today as ever before. Backtrack in time to 3000 BC and the age of Pharaonic Egypt, and you will find no other civilisation to be so fascinating, so advanced in many respect.
During the first millennia AD many of foreign conquerors occupied and rulled Egypt – Persians, Greeks, Romans, crusaders, Arabs and Turks – all leaving traces of their culture behind in their descendants. Egyptians were governed by outsiders for thousands of years, and have only become truly independent in 1952. Declaration of the Republic of Egypt and a new constitution were introduced soon after in 1956.
The majority of Egyptians today are of Eastern Hamitic descent, while nomadic Bedouin and Berber tribes are of Arabic descent.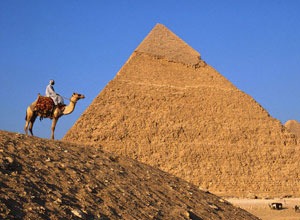 Egypt is located on the northeast corner of Africa, with coastlines along the Mediterranean and Red seas. The wast majority of Egypt's land is desert (over 90%), and most of the 82 million population live along the Nile Valley. River still remains the lifeblood of Egypt.
The Egypt's economy is predominantly driven by agriculture and tourism. Agriculture is the most important industry, employing a large percentage of the workforce. It also feeds the country and provides valuable exports, especially the cotton crop. Other important sources of revenue are oil, gas, mining and of course, tourism.
Egypt's Busy Calendar
Throughout the year, Egyptian calendar is filled with Muslim, Christian, national and local festivities, so much so that finding a longer period without a public holiday can be a challenge. Because the dates of these events are calculated in different ways (and some are constantly changing each year), they can be difficult to account for.
The Islamic calendar is different from the Christian one. It is based on twelve 29 or 30-day lunar cycles, and the Islamic year is around 11 days shorter than that of the Western calendar.
The Egypt's Christian Coptic church uses Julian calendar, as well as the solar Coptic calendar. To add even more to this confusion, non-religious festivals are frequently changing their dates each year.
Moving to Egypt during spring
Springtime is probably the best period for relocating to Egypt. It is the most pleasant period (whether wise) when temperature is yet to climb to the scorching summer heat. Also, Egypt itself is not too crowded with visitors flocking into the Valley of Kings from all over the world.
However, there are few festivals and public holidays that can impact the timing of your relocation to Egypt, and they should be taken into a consideration. Egypt's calendar is quite busy with festivities of all sorts throughout the year, and Spring is no exception. Here is the quick summary of what's happening in Egypt around the spring.
Flower Show is held at the Orman Gardens, Giza (March). Originally one-day event, it now lasts for over a month.
Feast of the Annunciation (March 23) – Coptic festival that celebrates the announcement to the Holy Virgin that she was to give birth to Jesus.
Easter (March?) – the most important date on Coptic calendar. It can differ by up to a month from the date of the Orthodox church's festival.
Sham an-Nessim or "sniffing the breeze" (March) is celebrated by both Copts and Muslims. It is a day when families going on picnics, enjoying outdoors and the fresh spring air.
Sinai Liberation Day (April 25) – celebrates Israel's withdrawals from the Sinai Peninsula in 1982.
Labour Day (May 1) – most businesses are closed
Moulid of St Damyanah (May) – Coptic festival celebrating one of their important saints.
National Fishing Competition – Sharm el-Sheikh (May)
Ragabiyya – local festival in Tanta, held for 3 days (May)
South Sinai Camel Festival – The International Camel Race Competition (May)
When relocating to Egypt from Australia, a timely planning is essential. With so many things to consider, you should inform your Nuss Relocation consultant about your plans as early as possible. As always, all our staff at Nuss will do everything they can to make the relocation a stress free experience for you and your family.