If you are moving to Spain from Australia, all you really need to worry about is organising that farewell "fiesta" and perhaps polishing that flamenco step you're so proud of – Nuss will take care of the rest. Moving your household belongings to Spain with optional storage and transit insurance is best served by removal and relocation specialist such as Nuss. We also provide a wide range of support services with International Relocation, such as assistance with finding the new home and school, city orientation, plus much more.

Things to Know when Moving from Australia to Spain
The country of Spain lies on a large peninsula called "The Liberian Peninsula", and borders with 3 other European countries – France, Andorra and Portugal. At the southern tip is the British dependency of Gibraltar. The Canary Islands (located off the north west coast of Africa) and Balearic Islands are also part of Spain. With over forty million people Spain has the fifth largest population in Europe and is about twice as large as the UK.
The mainland of Spain is divided into 17 regions, and each region has its own capital city or town, own culture and traditions. Originally these regions were small countries, but they were united in the 15th century under King John II and King Ferdinand of Aragon. Many Spanish people still like to identify themselves as citizens of a particular region, rather than of Spain.
The official Spanish language is also called Castilian, while Spanish regions also keep their own traditional languages alive. The main other languages spoken are Catalan in Catalonia, Galician which is spoken in north west of Spain, and Euskera (the Basque language) in the Basque country.

Geographical Regions of Spain
The Pyrenees high mountains range is stretching for 450 km to the north east of Spain, separating the country from France and staging some of the most exciting races of famous "Tour de France" each year. The northern and western coasts of Spain face the Atlantic Ocean, and these coasts have rocky inlets called "raise". The largest area of Spain is on a plateau called the "Meseta", which spreads for hundreds of kilometres from the middle of Spain. It covers 40 percent of total Spain's land, and the capital city, Madrid, is situated in the very centre of the country.
Spain has more than 2000 beaches, with the majority of them situated to the east and south parts of the country along the coast of the Mediterranean Sea. Millions of people each year from all over the world come and visit these parts of Spain, it is one of the most popular holiday destinations. Barcelona, Spain's second largest city, is on the east coast.

Spanish Climate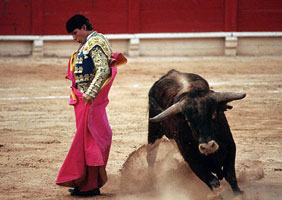 For such a large land area that Spain occupies, it is not a surprise that the climate varies a lot. If you travel through the whole country, you will notice that the some parts of Spain are much warmer (or cooler) than others at any given time. The central plateau (the largest area) of Spain is very hot in summer and very cold in winter. This area is also very dry with only a small amount of rainfall during the year. Madrid can reach temperatures as high as 40 degrees in summer, and as low as -10 in winter. The Mediterranean coastline areas have hot summers and warm winters, while the southern inland region of Andalusia is the hottest and driest part of Europe.

Amazing Facts
Spain has one of Europe's most technologically advanced railways, called the AVE. It was introduced in 1992 and uses high-speed tilting trains at speeds up to 300 kph. The journey from Seville in the south to Madrid takes 2.5 hours by this train, as opposed to 6 hours by car.
The Romans built the first road system in Spain from 200BC. Spain's major roads all start from Madrid in the centre of the country.
Spain has the highest road in Europe. It is in the Sierra Nevada in Andalusia and reaches 3496m in altitude.
Quintessentially Spanish
La Siesta – The Spanish pursuit of healthy balance between work and play in nowhere more apparent than in traditional midday shutdown called "La Siesta". However, once a universal ritual, the classic "midday snooze" is rarely practised these days – it became all but extinct in two-salary, 21st century Spanish family everyday routine. Nevertheless, the fact still remains that most stores and businesses are closed between 1:30 and 4:30, whether people are snoozing or not.
El Paseo – One of the most delightful Spanish customs is "el paseo" (the stroll), which takes place during the early evening hours and is common throughout the country. Given the modern pace of life, there is something appealingly old-fashioned about families and friends walking around at a leisurely pace with no real destination or purpose. El paseo provides everyone with an opportunity to participate in lively slice of Spanish street theater.
Nuss has a great deal of experience in relocating entire families to Spain. Being a part of the global removalist network, we can ensure the best quality and comprehensive moving service, and we work through the day – no "siesta" for us. So, If you happen to be moving from Australia to Spain, give us a call and we will organise the service option that suit your needs.