International Removals to Germany are best organised by a professional, quality removalist company. Nuss can provide a full door-to-door removal service to Germany via either sea or air, as well as packing, insurance and other additional services.
Germany is not only blessed with varied and beautiful scenery, but also has a multifaceted history. A rich tapestry of historic buildings, significant art collections and fascinating towns and cities – all characterising this culture-rich European nation. Today, the New Germany has much to offer an open-minded visitor – from breathtaking Baltic Sea shores to the north to skiing and hiking in the Alps, as well as culture of every kind in the great city of Berlin.
Germany is divided in 16 administrative regions, some of which are city-states like Berlin and Bremen, while others like Bavaria cover hundreds of square kilometres. Some 130 years after Chancellor Otto von Bismarck brought the German states together, regional identities remain strong and distinctive local traditions and accents are still present today as before.
Geographic Landscape
With an area of 356,978 sq km (137,829 sq miles), Germany is one western Europe's biggest countries. It is about 450 km (280 miles) at its widest and some 853 km (530 miles) long, and it has 907 km (564 miles) of coast along the North and Baltic seas. Germany shares a border with 9 other European countries: France, the Netherlands, Belgium, Luxembourg, Switzerland, Austria, the Czech Republic, Poland and Denmark.
North flowing rivers delimit large stretches of both Germany's western and eastern borders, while the Bavarian Alps mark the country's southern edges. Along the western border is the Rhine valley, whose steep castle-topped banks are the quintessence of Romantic Germany. The Schwarzwald (Black Forest), Swabian, Harz and Bohemian ranges are all lower than the Alps, but are still high enough for a variety of winter sports.
German Culture
In the fields of the visual arts, classical music and literature, Germany has been at the forefront of European artistic life for centuries. Aristocratic patronage enabled artists such as Albrecht Durer (1471 – 1528) and Matthias Grunewald (1470 – 1528) to flourish. Contemporary German artists and musicians are following in the footsteps of a wealth of illustrious predecessors. The country's role as a leader in the modern art world is confirmed by the Kassel Documenta, the Art Forum Berlin and the Kunstmesse Koln, which attract international artists.
As a part of international film scene, the Berlinale Film Festival is the third biggest in Europe (after Cannes and Venice), and brings 16,000 industry professionals from more than 100 countries to Berlin each year. The Golden and Silver Bear awards are much prized, and recognition in Berlin often means further commercial and artistic success.
Fun and Festivals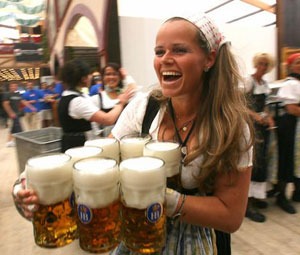 Germans like to enjoy themselves. Of all the stereotypes about Germany, the image of a serious and angst-ridden nation is farthest from the mark. Although a deeply conventional streak runs through society, this is more than balanced by an equally strong interest in creativity, counter-culture and sheer fun. Throughout the country, the year is punctuated by great popular festivals that are as lively today as they ever were.
When talking about German festivals, it's impossible not to mention the great Oktoberfest. It's the Big Daddy of beer festivals: 16 days of frothing beer mugs, fairground rides and concerts. Munich's Oktoberfest began as a celebration of the future King Ludwig's wedding in 1810, and has grown into the world's largest party, with 6 million visitors descending on 14 beer tents in the Bavarian capital.
Nuss will move you to Germany quickly and safely
Don't know where to start? We suggest you pop up your favourite "Pilsner" or take a sip of that divine "Schnapps" and give us a call. With a huge amount of experience, impressive track record and outstanding quality service, we can make the process of moving to Germany a positive and stress-free experience.