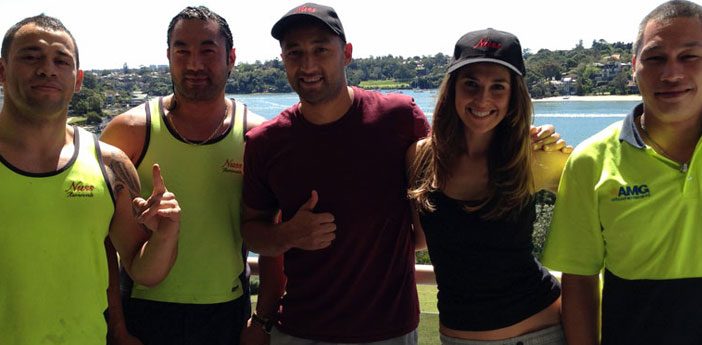 Benji Marshall and his wife Zoe Balbi are moving to New Zealand and we were there to help. It doesn't happen every day that we have a chance to meet a celebrity couple on the job and naturally we were very excited about it. We asked them for a short interview and some photos while our boys were packing their home and to our delight they accepted. Below is what Benji and Zoe had to say about this significant moment in their lives.
After 11 years playing for the Tigers, Benji, 28, is set to take up the fresh challenge of playing rugby union for the Auckland Blues – and hopefully one day the All Blacks.
"Zoe knew it was my dream to one day play for the All Blacks and she just said to me, if that's what you've got to do to live your dream, I'll support you," says Benji.
"I think every kid growing up in New Zealand wants to be an All Black, so hopefully that becomes a reality."
TV presenter, columnist and blogger Zoe, 29, who is pursuing some exciting media opportunities in Auckland adds: "And I get to live my dreams while he's living his. I have great management over there, and there's a lot of interest in me. Obviously us going over there together, everyone's very excited for Benji's arrival."
The high-profile couple say the thought of uprooting their life in Sydney and relocating with their dog Mila can be a bit overwhelming, but they have opted for the stress-free route by using Nuss Removals.
"It's a little bit nerve-wracking and daunting now that it's actually a reality," admits Zoe. "But the Nuss boys are so efficient and so tidy the way they pack, and so quick and so organised, and no fuss, no nonsense. It's just been the best decision ever."
Benji says it's been a relief to leave the professionals to take care of the hard work, so they can spend their time saying goodbye to family and friends in Australia.
"You know, you build up a lot of friendships and relationships in your time here, and I've lived in Sydney for 12 years now," he says. "We've been able to leave the house and do what we need to do and come back and rely on Nuss that it's done. Everyone knows man, moving's a hassle. But these boys make it like it's not."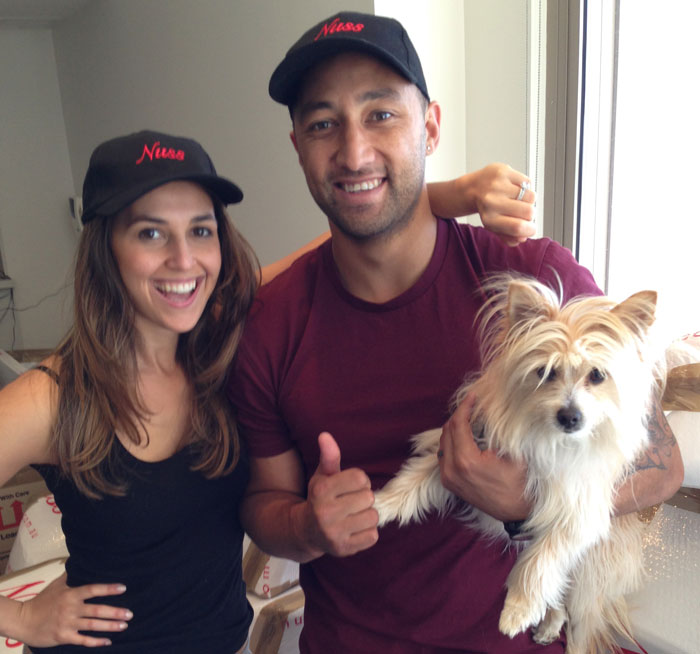 The thing Zoe was least looking forward to about moving to New Zealand was having to pack up her kitchen, so she was thrilled to have that job done for her.
"The biggest hassle is having to actually pack all your crockery and your plates. The last time we did it I just about had a nervous breakdown," she says with a laugh.
"So the best part is having the Nuss boys come in and ask 'what do you need packed?'. We just said, 'oh everything in the kitchen' and they just packed everything for us."
Returning to his native New Zealand will be a sort of homecoming for Benji. He moved to the Gold Coast at age 16 when he got a scholarship to attend Keebra Park High School. "I got scouted for the Tigers at the school I was at, and then the rest is history," he recalls. "It was a massive change, man, from no-one knowing me to overnight fame, it was quite weird."
For Zoe, who has never lived outside of Australia, a new country means new experiences and challenges.
"I think it will be a slightly slower pace [in Auckland], which is fine for us because we're not into the hustle and bustle," she says. "But it's very similar in the quality of food and how trendy it is and the bars and restaurants. It will just be different for me, and I'm going to have to make friends now – which is also a really cool thing."
Fortunately they'll have Mila, their beloved Pomeranian Maltese cross pup, to help them feel immediately at home in their adopted city.
"I think one of the other bonuses with Nuss was because we have to relocate an animal, which is a lot more difficult than it seems, Nuss's relationship with Jetpets made the job really easy," says Zoe.
Benji agrees: "They genuinely seem as though they care about the pets, which is important to us, because we want the experience to be as easy as it can be."
Having had such a good experience with this move, Benji and Zoe say there may be more moves in their future to other countries where rugby is played, such as the UK, France or Japan.
"Travel has always been such a passion of mine, and I'd love to go to Japan and Europe!" says Zoe.
Benji agrees: "I've got goals that I want to achieve in New Zealand first, but then I would love the opportunity to travel."
By packing up their life in Sydney and relocating the couple across the Tasman, Nuss took the hard work and worry out of the move, and let Benji and Zoe focus on the exciting part – following their dreams.