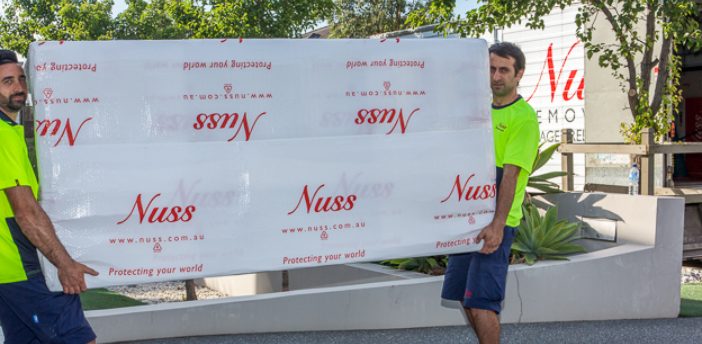 Moving to a new place is a physically demanding task. The simple act of pushing, pulling, or carrying things to move them elsewhere can strain the body. But, it's not only your body that suffers when you go about this task. Your belongings, as well as the place where all of the moving is taking place can sustain damages too.
Any damage to your items and even the places you are moving to and from can result in additional expenses. After all, replacement and repair always come with a cost. So, if you want to manage your moving expenses well, one of the key things to focus on is how to prevent dents, cracks and breakages from happening during your move.
A Damage-Proof Process
We, at Nuss Removals, are equipped with the best strategies in damage-proofing your move and we are sharing them with you. Here are 10 of them:
1. Protect sharp corners and doorways.
For narrow rooms with small doorways, make sure to pad the sharp edges to prevent scrapes. There are rubber edge protectors that you can purchase from home building supply stores. Some people are also known to use cartons secured in place with painter's tape for the same purpose.
With these edge protectors in place, furniture and appliances may bump into doorways and sharp corners but they will not get damaged easily and vice versa.
2. Use sliding discs or rubber sliders for heavy furniture and appliances.
Heavy and big ticket items are always difficult to move around but you can make them easier to move across smooth surfaces by using sliding discs or rubber sliders.
These sliders prevent friction between the heavy items and the floor (that create scratches or dents), making pushing and pulling so much easier, while also lowering the risk of the items getting caught on something that can cause them to tip over.
3. Wipe spills and sticky surfaces.
Prevent any type of accident due to unclean surfaces. Always tidy up before moving anything. Also, clear walkways and roll away carpets and rugs – anything that can get in the way of the removalists while they are carrying your belongings.
4. Cover walls and bannisters with cartons or blankets.
Doing this will ensure that scrapes and scratches will not happen even if bulky items come in contact with the bannister or wall. You can protect not just your home fixtures this way, but also the pieces of furniture that you will be moving around.
5. Identify alternative entrance and exit points.
You may find that some of your belongings simply cannot fit through the doors, so look for alternative solutions. Perhaps there are windows big enough for them, or maybe you can disassemble certain home features to create a bigger entry or exit points.
Before the actual moving day, it is important that you measure large or bulky items to determine the best entry and exit points for all of them. This way, you can plan ahead and ensure a streamlined moving process.
6. Pack your most important valuables first and get them out of the way.
Artworks, fine furniture, family heirlooms, valuable collections (antiques, coins, stamps, etc.) and other important items should be your top priorities for packing. It's just better to have them safely wrapped and tucked in sturdy boxes before tackling everything else.
Remember, do not scrimp on packing paper or bubble wrap. You want to make sure that the items do not rub against each other and everything is thoroughly padded. If the items move during transit, they will have enough cushioning to prevent chips, scratches, and breakage.
Also, do take the time to learn about the best wrapping and packing techniques especially if you will be placing all of these pieces in the same box. To prevent them from moving around, it is always better that the box is made compact with Styrofoam fillers.
7.  Use different sizes of cartons for packing.
Moving cartons or boxes are the best containers to use because of their sturdy build. They can hold a lot of items and they will fit better in the truck because they are designed to be stackable and easy to arrange. Since you can place them one on top of the other, you also get to fit more items safely into the moving truck.
When packing, be sure to have cartons in various sizes on hand to accommodate all of your items, big and small. Always keep heavier items below and lighter ones on top when moving boxes into the removals truck.
8. Dismantle oddly-shaped and large furniture.
Disassembling big ticket items is advisable for them to fit more easily through the designated exit/entry points. Also, you can protect these items more effectively by wrapping and storing the different parts in boxes. Make sure you label parts or keep them together in one properly labelled bag so they do not get mixed up with others.
Don't forget to take several photographs of each item from various angles before dismantling it to ensure you can easily put it back together after the move.
9. Provide instructions on how each box should be handled.
This is especially important for boxes containing fragile items. Indicate the right side up of each carton. At the same time, write if the contents are fragile and should be handled with care.
Labelling each carton with a description of its contents and which room it should go will also make the unpacking process much easier.
10. Never attempt to carry a bulky and heavy item on your own.
There are important techniques to use when carrying items to be moved, in order to prevent any possible damage — from minor bumps and scrapes to irreparable damage.
If you do not know these techniques nor have the equipment to undertake a smooth move, just entrust the job to experienced professional removalists like Nuss Removals.
We not only employ the best techniques, but we also use a wide range of moving equipment and tools to make the removals process easier and safer.
Nuss Has Got Your Relocation Needs Covered
To ensure a damage-free and safe move to your new home, we are the professionals for the job.
We have everything covered — from packing to storage and even your moving checklist.
Contact Nuss Removals, the best interstate removalist company in Sydney, to get a quote today.