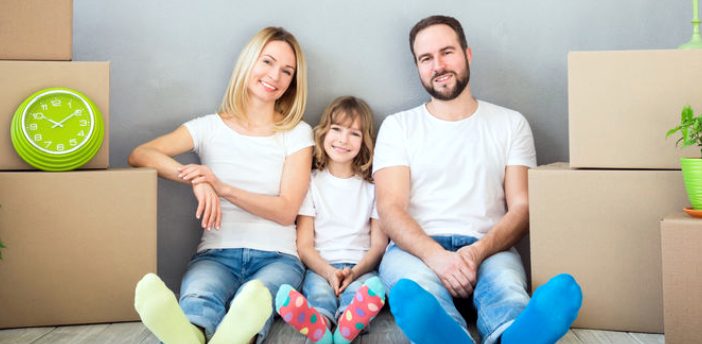 After moving interstate to Sydney, working on more tasks may be the last thing you want to be doing. All you want to do is to relax, reward yourself with some good food and get plenty of sleep at night.
Although you may have more time to do these things after moving, you can't do them right away. You need to complete some critical tasks that will enable you to settle into your new home faster. Accomplishing these items will also help you enjoy a more comfortable, stress-free life in your new residence.
Below is a list of tasks you have to prioritise post-move:
1.   Change the front and back door locks
For some people, the first step to achieving peace of mind in their new home is to replace all the door locks.
Whether you moved into a newly-built house or a pre-owned one, there is at least one other person that holds a set of keys to your new home.
To feel completely safe and secure in your new abode, you may decide to change the locks of both your front and back doors as soon as possible. By doing so, you will be sure you are the only one who has access to your home's main exit/entry points. Additionally, make sure you choose good-quality locks and install a deadlock for extra security.
2.   Check if the smoke alarm is functioning
As tedious as this sounds, for quality sleep on your first night in your new home, check this important safety device and make sure they are working.
Having a functional smoke alarm will ensure your safety even when you are asleep. As such, spend a few minutes of your first day in your new home testing these devices and replacing the batteries, if necessary.
3.   Locate the circuit breaker and shutoff valves
Ensure you are prepared to deal with any electricity, gas (where applicable) and water-related emergencies in your new home. Look for your electricity meter box or panel which contains your circuit breakers and find your water and gas shutoff valves a day or two after your move.
Many new homeowners find themselves hunting for the circuit breaker at night during an emergency with only a torch, which can make the task excessively hard and potentially unsafe. To avoid finding yourself in this situation, place finding the circuit breakers high on your to-do list.
While finding the circuit breaker, locate your main water shutoff and gas shutoff valves as well. It would be better for you to find the water shutoff valve now than to be frantically looking for it as a burst pipe floods your bathroom in the future.
4.   Clean your new home
Ensuring your home is clean before you start unpacking and arranging your furniture and appliances is one of the best tips you can follow post-move.
This is because the absence of your heavy, bulky furniture and appliances will make it easier for you to clean your home from top to bottom. You won't have to move these items to vacuum or sweep underneath them. You will be able to give the walls a thorough scrubbing and other hard-to-reach places as well.
When cleaning your new home, start with the kitchen and bathrooms first. Next, tackle the bedrooms and then the rest of the house.
5.   Start unpacking
Unpacking is one of the chores you can't get out of after moving (unless you take advantage of our valet unpacking service!). As such, the earlier you start doing this, the faster you will be done with it. And the more boxes you unpack, the more you will feel comfortable in your new home. Additionally, you will have less clutter to deal with.
The upside to unpacking is you don't have a strict timetable to work with. This means you don't have to rush doing this. However, the faster you complete this chore, the better it will be for you.
6.   Arrange your furniture and set up the appliances
Your new house or apartment will never feel like home until you have arranged all your furniture, electronics or appliances.
One of the great things about having a new home is that you get the opportunity to create a unique space that works well for you and showcases your personality. With some research and using the right online tools, you will have an easier time coming up with the perfect layout.
Arranging your furniture is also the perfect time to organise any appliances you haven't set up yet. Setting up your kitchen appliances and other electronic devices is often one of the most difficult post-move chores. If this was part of your relocation package, you should be thankful, since you have been able to skip a time-consuming, tiring task.
7.   Have a home security system installed
Boost the security in your new house or apartment by having a home security system installed.
Select a good home security system to increase your sense of comfort and safety in your new place. Make sure you choose a trusted brand and supplier that can install it properly in your home.
Once your home security system is up and running, you will be more at ease exploring your new environment.
8.   Set up all essential utilities and services
Moving to a new city or state often means setting up utilities or facilities and services in another area, where your past suppliers may not provide the service. If this is the case, you will have to disconnect and apply for new connections.
If you can transfer your lines or connections, you have to do this as soon as possible (preferably pre-move) since reconnecting utilities can take some time.
If you already made a list of all utilities and services you had at your previous home, you will have an easier time keeping track of services you still need to sign up for.
As a final tip, don't forget to squeeze in an hour or two to explore your new neighbourhood each day. Take a walk and find the nearest park, supermarkets, shopping centre, and other places of interest. Take note of the bus and train stations or stops as well.
When you know the lay of the land, you will be able to settle into your new home faster as well.
To experience a less tedious and stressful post-move in Australia, ask about our additional services during your free in-home survey and quotation at Nuss Removals.